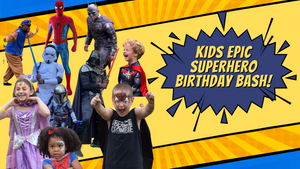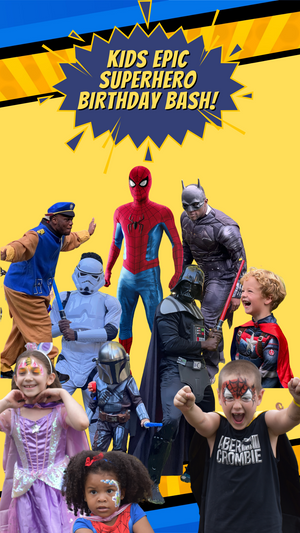 Superhero Birthday party
Prepare for an Unforgettable Adventure with Our Superhero Party Package!
Our superhero experience is custom-crafted for little heroes aged 2 to 7, making sure that kids of all ages have an absolute blast and create lasting memories during this action-packed celebration. It's a party they'll cherish forever!
The Best Kids Superhero Birthday Party!
Superhero Adventures - Anywhere You Choose!
Our party service is the ultimate in flexibility. We bring the superhero celebration directly to your location, whether it's your backyard, a nearby park, an indoor space, or one of our dedicated party venues in Westchester, and Manhattan.
Backyard Bliss: Transform your own backyard into a superhero haven for an unforgettable adventure.
Park Party Perfection: Enjoy the great outdoors with a superhero-themed celebration in a nearby park.
Indoor Magic: Opt for an indoor setting for stability, especially in case of inclement weather.
Dedicated Party Locations: Consider our premier venues in Westchester, and Manhattan for a complete superhero experience with professionally designed setups and equipment.
Wherever you choose to host your party, we're here to make it a superhero extravaganza your child will treasure.
KIDS ACTIVITY
Party Package
Our comprehensive package includes a wide array of exciting features such as Superhero obstacle course, Sports and the option to dress up in superhero costumes, ensuring a party experience that's truly exceptional.
45 minutes of non-stop superhero excitement!
Party Highlights:
🎉 45 Minutes of Unforgettable Superhero Fun for Kids and Parents: Step into an epic superhero world in the heart of NYC, featuring Manhattan, Queens, and Westchester. Kids, parents, and friends will have an amazing time embarking on a thrilling adventure filled with action-packed games and activities. 🦸
🏙️ NYC's Finest Superhero Adventure: Explore the city's best superhero experience, taking your kids and their playmates on a memorable journey through iconic locations in Manhattan, Queens, and Westchester. Our superhero characters will guide them through a day of excitement and wonder.
🎪 15 Minutes of Seamless Setup: Our dedicated team ensures that your superhero-themed party setup is captivating and seamless, immersing your child, their friends, and parents in the world of superheroes. We leave no detail untouched in creating an unforgettable experience.
🎨 Optional Face Paint for Kids: Add an extra splash of color to the party with optional face painting. Kids can transform into their favorite superheroes, adding another layer of excitement to the adventure.
Your child's birthday party in NYC will be a superhero extravaganza like no other, making memories that will last a lifetime. Get ready for an adventure of a lifetime, where kids, parents, and friends will have a blast! 🚀🌟
Party Package
Coach Character Upgrade
For just $49, our dedicated coaches will don superhero costumes, adding an extra layer of excitement to the party experience!
Party Package
Themes
It's time to customize your party with the superhero theme that resonates with you the most. From the iconic web-slinging Spider-Man to the enigmatic Batman and the supercharged Superman, we offer a variety of beloved superheroes for you to choose from. Explore the heroic world of your favorite characters, adding an extra layer of excitement and wonder to your superhero adventure!
Celebrate Your Birthdays With Your Favorite Superhero
Endless Possibilities and Themes Await!
Your vision, your choice! Let us know when and where you want to make your superhero dreams come true, and we'll deliver the capes and superpowers. To reserve your date, simply complete the form below or give us a call at 718-559-0464.
Price: $299 Mon- Fri $349 Sat & Sun (additional rates may apply for indoor locations )
A 50% deposit of the total party package cost is required to secure your chosen party date.
Superhero
Locations
Flying all over New York to deliver the most fun Superhero experience.
New Location Request
THE SUPERHERO TEAM
Coach Superman
I've been hosting kids' superhero-themed parties for a decade because I absolutely love it. It's all about making children's dreams come true on their special day. I'm passionate about nurturing their imagination, creating lasting memories, and boosting their self-confidence. Seeing the happiness on their faces and forming meaningful connections with families is what keeps me going. I also enjoy fueling their creativity and helping them embrace their inner heroes. It's an incredible journey, and I'm grateful for the opportunity to make every kids' birthday party a magical experience
Coach Alex
My passion lies in creating high-energy, fun-filled celebrations that kids absolutely adore. I'm all about inspiring teamwork, sportsmanship, and an active lifestyle in young ones. Making birthdays unforgettable, boosting kids' self-esteem, and forming lasting connections with families is what I'm all about. With me in charge, your child's party is a guaranteed touchdown or a slam dunk, brimming with excitement, laughter, and important life lessons!
Coach Nate
I absolutely love making kids laugh and sparking their imaginations. Crafting memorable birthdays filled with exploration, wonder, and lots of giggles is my passion. It's all about empowering young adventurers and creating connections with families. With me as your guide, your child's party is a ticket to an unforgettable adventure where laughter is the ultimate treasure.